The Hythe School is filled with fantastic, happy children who achieve amazing things both in and out of school and we want to celebrate their hard work, success and achievements here.
If your child has received a certificate, medal or trophy, shown courage or kindness or would like to share something special they have achieved, please let us know and we will be proud to share this here and in school.
We also want to share with you here the lovely feedback we have had from families, volunteers visitors and Ofsted about our school.
Please scroll down to see our inspirational children and to read
what our families, visitors and volunteers have to say about us.
December 2019
Oscar in Year 5 Kingfishers has made this incredible model of the solar system as part of the class science topic. It is so detailed and must have taken an astronomical amount of time. We think it's out of this world!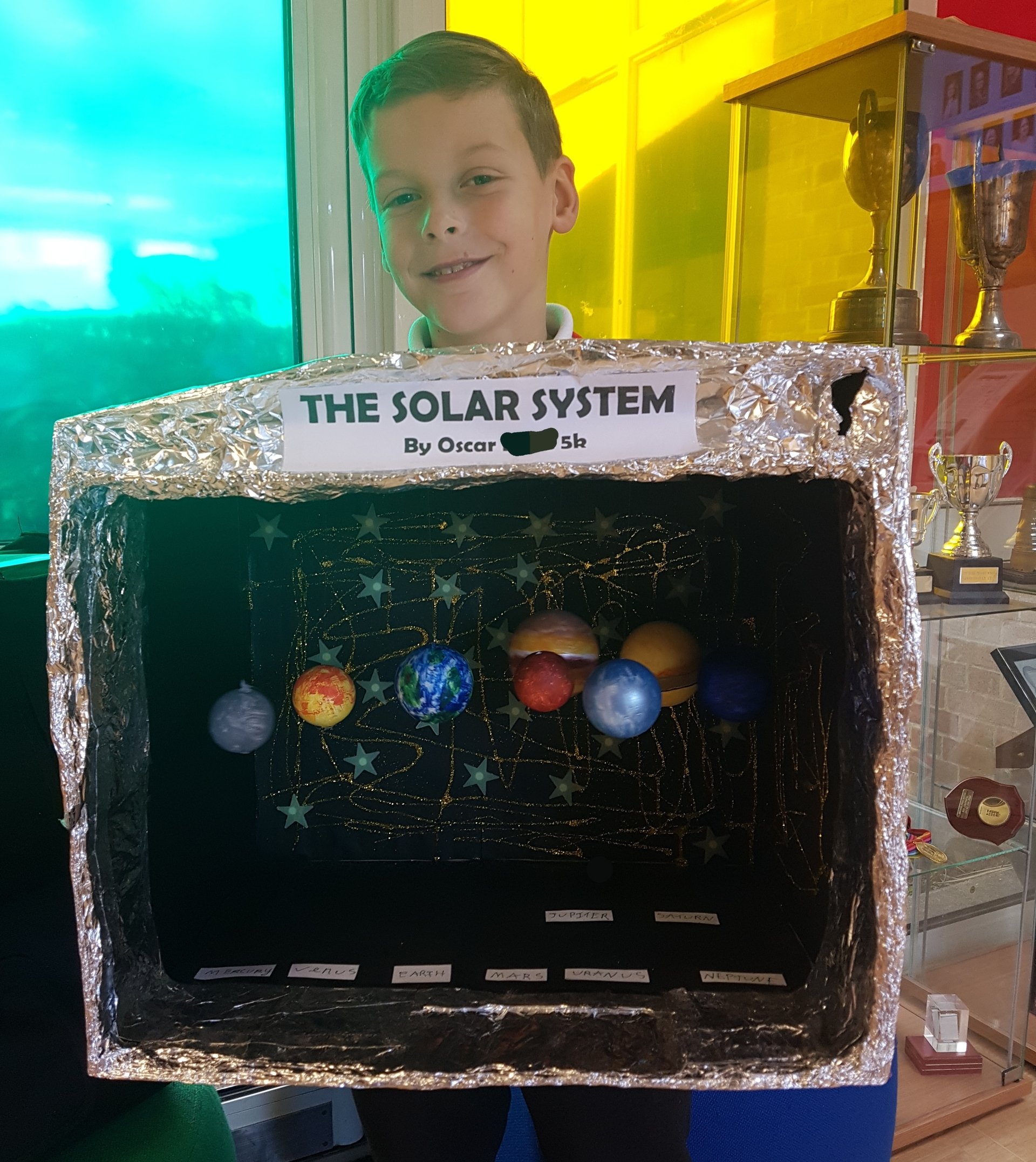 December 2019
Daisy in 4 Wrens, Casper in Reception Caterpillars and Teagan, a former Hythe pupil, all stood outside
in the cold in Windsor on Sunday singing Christmas carols and songs to support the charity, National
Deaf Children's Society. These superstars helped to raise the incredible sum of £564! We are very
proud of them.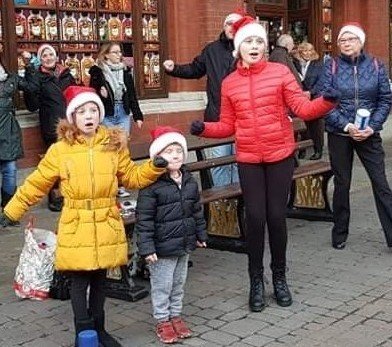 November 2019
Niamh (Yr 5) is a keen swimmer and competed in the Windsor Swimming Club Level 4 Meet at the weekend. In her age group and category she won 1st in Freestyle, 1st in Backstroke, 1st in Butterfly and 2nd in Breaststroke. It's only her second time swimming competitively. That's amazing!
October 2019
We love hearing about our children's achievements and even more so when we can see that one achievement leads to another. Here is Mia once more, from Year 3 Dragonflies, who is doing brilliantly at karate and has now been awarded a green belt. Well done Mia!
October 2019
Niamh in Year 5 is a keen swimmer and loves having Egham Orbit on our doorstep. She was recently awarded Stage 8 ASA Swimming Certificate and is now enjoying further developing her swimming skills in a Stage 9/10 class there.
Stage 8 standards include 400m distance, swimming at speed, competent freestyle, butterfly, backstroke and breaststroke, tumbleturns and dive starts.
Great achievement Niamh!
October 2019
We received this lovely news from the mum of a former pupil. Her daughter Nicole has been awarded a PhD from Hull University and is looking to start a research fellowship. It's fantastic to learn how well our pupils get on in their future lives.
June 2019
We received this email from Niamh's mum.
'Please see attached a photo of Niamh and Oscar from Year 4 Wrens who were both selected to play squash for the U10 Runnymede Team this weekend at Surrey Youth Games. Both joined the squash lessons as complete novices and really enjoyed their lessons.
Both were also selected to be Surrey Youth Games Ambassadors this year, helping to promote the games before and leading up to the event. A role they relished.
On the day, imagine their delight when Mr Roots appeared at Surrey Sports Park to support them! .......
A special big 'Thank you' to Mr Roots for giving his time up and supporting them, especially on a weekend. The children (and parents) really did appreciate it.'
Well done Niamh and Oscar. It is always a delight to hear about our pupils' wonderful achievements!
June 2019
Another reason to celebrate our children's involvement in the Surrey Youth Games. Lily was picked to play squash despite having only started playing the game 6 weeks earlier! She competed for Waverley borough instead of Runnymede but she won 2 of her 3 matches. Her parents are really proud of her as are we!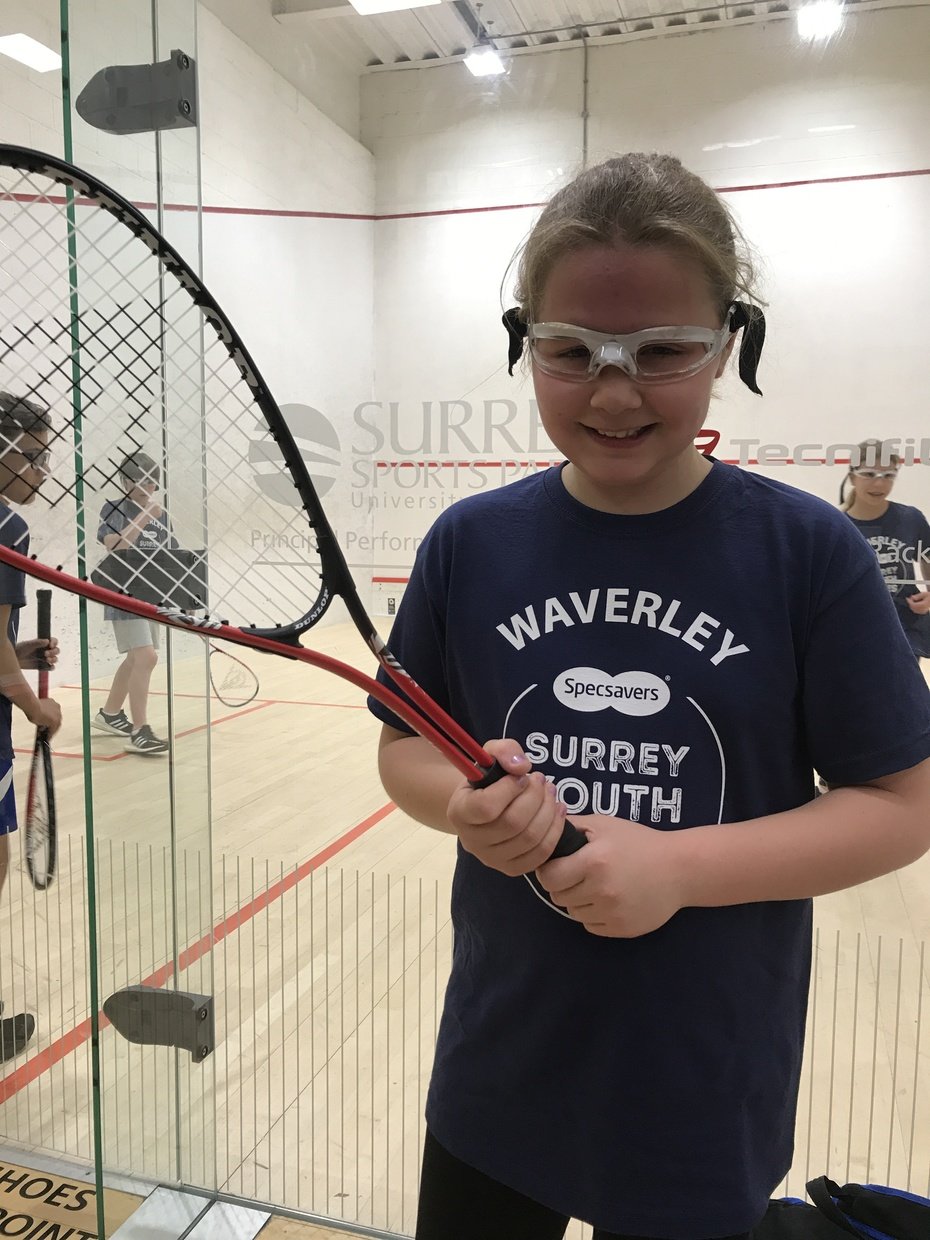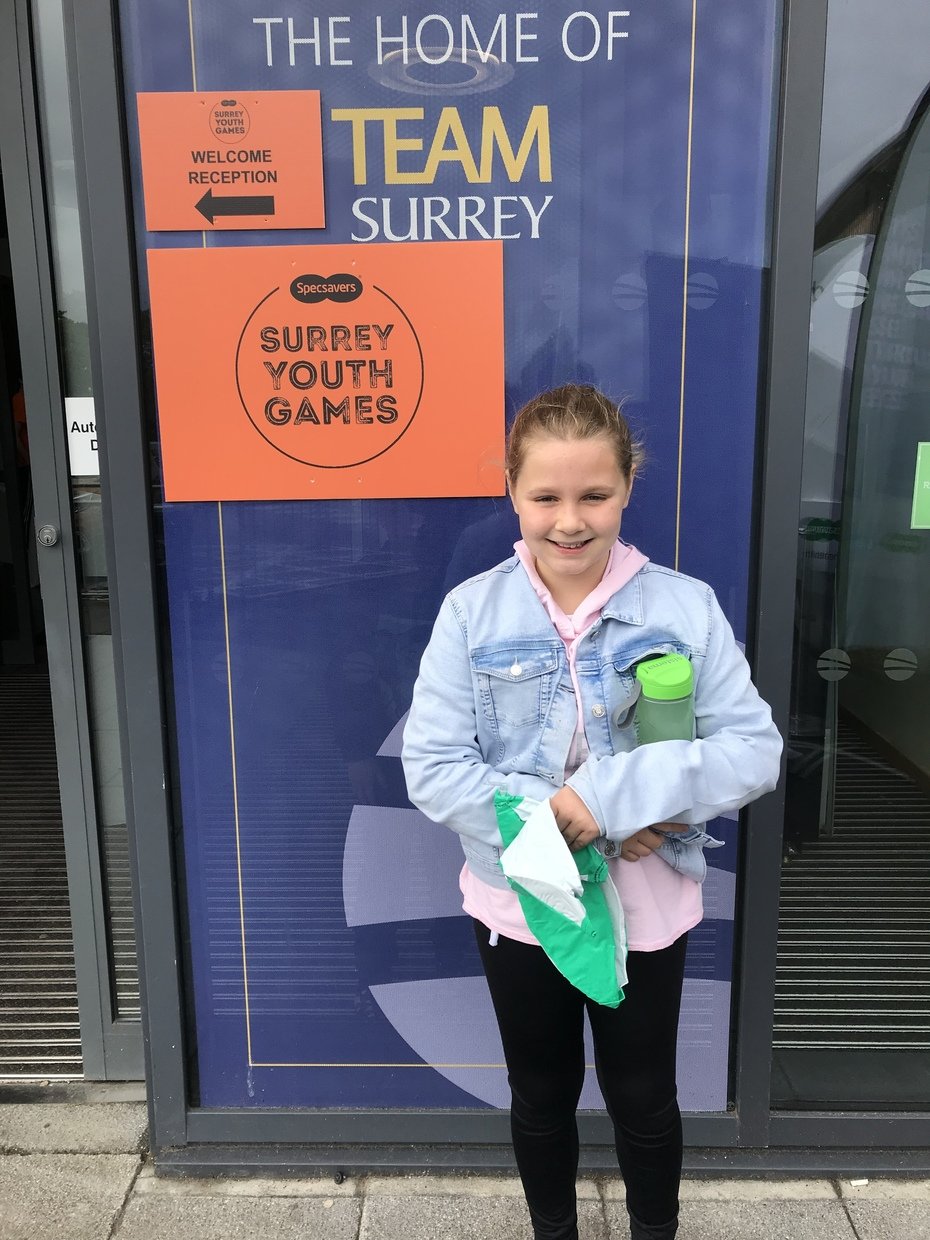 June 2019
Isaac represented Team Runnymede in the Surrey Youth Games and took part in the 2K fun run and had a great time. As an ambassador he supported Team Runnymede U13 squash for the rest of the day. What a star!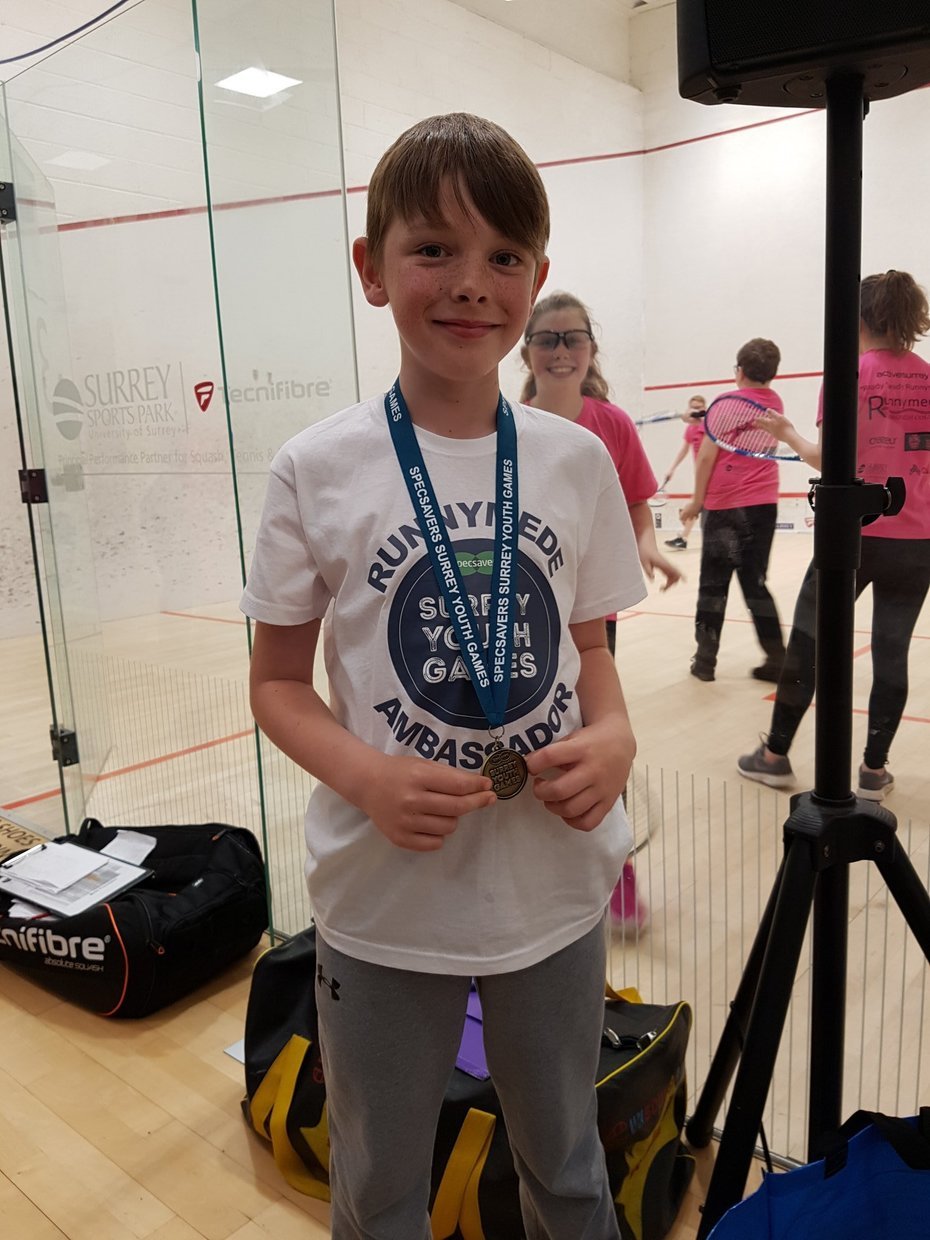 May 2019
Congratulations to Mia in Year 2 Hedgehogs who has been awarded a yellow belt in KUGB Karate. What a fantastic achievement!
May 2019
We were delighted when a team from our local British Gas offices offered to volunteer their services to help us improve the school site. Fourteen wonderful, smiling, very hardworking people arrived wearing old clothes and armed with garden tools to overhaul our wildlife area as well as to paint a large area of fencing.
Having such fantastic community links is most definitely a cause for celebration. Thank you to everyone who came along from British Gas for your support, and especial thanks to Sule McBride for organising the team.
May 2019
Jessica from Year 1 Rabbits has received a certificate for Arts Achievements at Spelthorne Youth Awards 2019 recognising her creativity and artistic talent.
Jessica's Mum told us that it also acknowledges the awards received by her at The Hythe for her art work. She emailed 'All I can say is 'Thank you' to her teachers for recognising her talents and natural abilities. Miss Bhoghal from Year 1 and Mrs Burridge from Reception are brilliant ….'
Here is a photo of Jessica receiving her award from the Mayor of Spelthorne. What a fantastic achievement! Well done Jessica.
April 2019
We received this lovely letter from Carers UK following Year 6 Owls fundraising for the charity in December 2018.
7 March 2019 World Book Day Celebrations
It was wonderful to welcome Hannah and Megan from Carers UK to talk to Year 6 Owls about their charity on 26 February. The children presented them with a cheque for £540.87 to help the charity with its vital work supporting carers. The money was raised by their Young Enterprise project last December in conjunction with British Gas supported by Sinead Hudson. We are very proud of all their hard work and it was fascinating for them to learn more about how their donation would help.
These photos are of Lily in Year 5 & Harry in Year 3. Lily has worked hard to apply for 7 Blue Peter Badges and has inspired her brother Harry to get his first one too! That's amazing!
This picture is of Maddie and Layla who, after spending one of their days over half term making cakes with their Nanny, decided to have a cake sale outside the house. After learning about Marie Curie in a recent assembly, Maddie wanted to raise money so that she could help people who are sick, like Marie Curie did. They raised a total of £28.55! What a fantastic thing to do - well done girls!
Daisy in Year 3 Dragonflies achieved first prizes and best junior exhibit awards for her beautiful drawing and creative craft entries at Egham Show and Chertsey Show this summer

. Lovely work Daisy!
Mia in Year 1 Rabbits was awarded an orange belt for KUGB Karate. Well done Mia!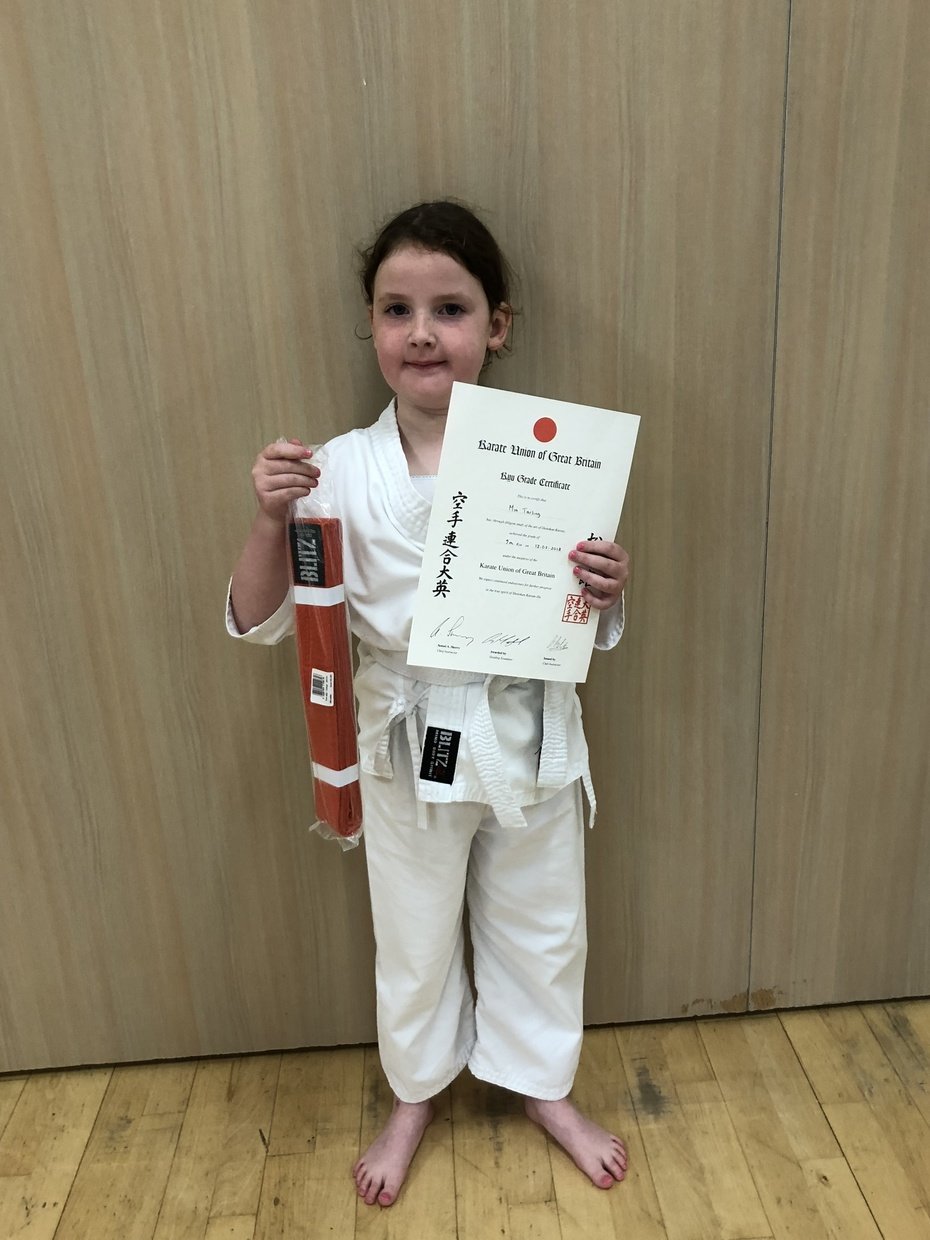 Third from right in the photo below is Niamh from Year 3 who participated in the Runnymede Girls Under 9 football team in the Surrey Youth Games on 24 June 2018.
The team consisted of 3 x Year 3 girls and 4 x Year 4 girls. The team has worked together over the last few weeks on their football skills. Niamh didn't know any of the other girls when she arrived. Their performance was one that made everyone proud. Their teamwork, positive attitude and sportsmanship was a delight to see.
Although they didnt win, they thoroughly enjoyed the day. Their performance in the friendly games was excellent, winning 3, drew 1, lost 1. Well done Niamh and all the girls in the team!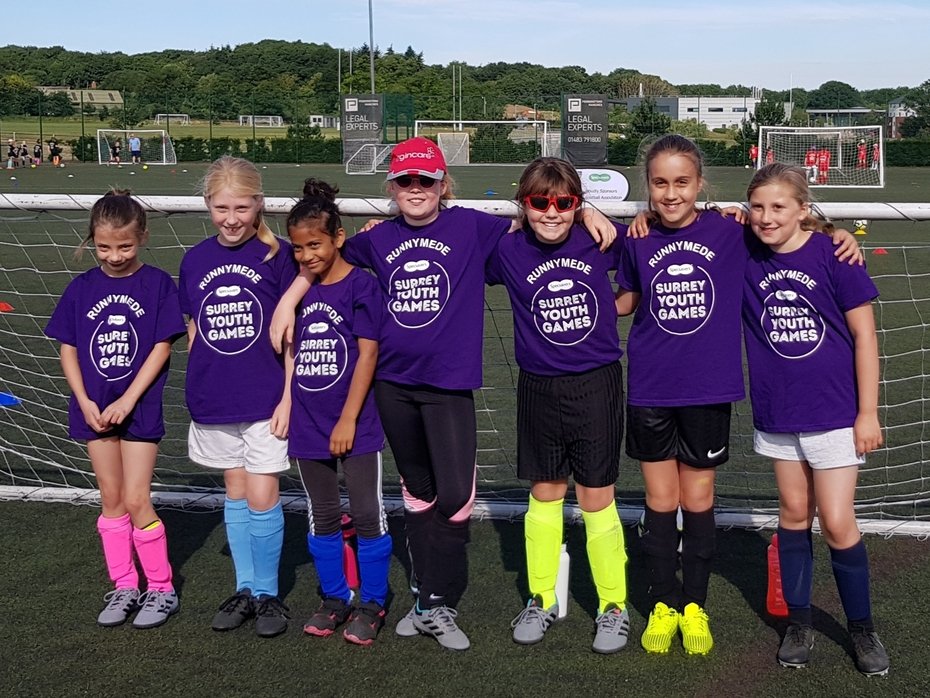 Anna Christodoulou, Royal Holloway University's Science Outreach Officer, ran a particle physics workshop for Year 6 on 21 February. The children loved it and we thought we would share Anna's response to our thank you email with you all : 'They were all so well behaved and so willing to participate that they made it truly enjoyable for me as well.'

Some of our children visited Butser Farm in February - here's what the Schools Coordinator had to say about them : 'It was lovely to welcome you again at Butser yesterday. Phelim and Helen have asked me to email you to say how much they enjoyed the day. Everyone was so engaged and the children asked very intelligent questions.'
We are very proud of our Year 6 children. They were fantastic hosts at our Harvest Festival Tea Party for local senior citizens. We would also like to celebrate the generosity of our families; your donations filled half a dozen tables! Thank you.
Listening to Reception children singing

Donations from our families

Deirdre (on the left) said

'If I could score the children out of more than 100 I would!'
Some fantastic feedback from parents about Year 3 Butterflies Fab Finish:
'I loved the song! It was really fitting - the children all looked so happy. Thank you for being so inspiring this year.'
'I like everything about this school!
'(My son).. was proud of the models and also his workbook. Enjoyed the class singing. Well done to everyone.'
'It couldn't be better!'
'I liked the interaction with their teachers.'
'It's always a pleasure to be invited into the children's learning and achievements.'
Extracts from Ofsted Short Inspection report dated 15 June 2017
'This school continues to be good.'
'Hythe Primary school offers a nurturing and inclusive ethos. Pupils interact together very well to form a vibrant community.'
'The leadership team has maintained the good quality of education in the school since the last inspection.'
'Your senior leadership team work together superbly, sharing responsibilities effectively while ensuring a consistency of approach that supports the smooth running of the school.'
'Keeping children safe has an appropriately high priority in your school. .............As one parent said, "The teachers have all been caring and genuinely interested in my son's welfare and development".'
| | |
| --- | --- |
| Aarush in Year 1 Rabbits class is proudly wearing his yellow belt achieved at Shentie Martial Arts Academy | |
24 MAY 2017 - YEAR 6 HAVE AN AMAZING REASON TO CELEBRATE.
TWO CONSECUTIVE WEEKS OF 100% ATTENDANCE - IMPRESSIVE!
Mia from Ladybirds class earned her swimming award!

Very proud mummy and daddy shared the news with us.
''Great interaction from the children. I learnt some things!! Can't think of any improvements. It was great!'
| | |
| --- | --- |
| This is Lily from Year Four Robins with two of her recent ballet festival medals. Lily now has gold, silver and bronze from dancing in the Tilehurst, Ealing and Hounslow Performing Arts festivals. She dances as part of a ballet trio and loves doing it. | |
'The presentation (of the fab finish), confidence & professionalism was lovely to see'
'I loved seeing all the decorations and drawings and doing the quizzes that the children had prepared. It was lovely to see them in their learning environment'
'I really enjoyed the quiz and the animal fact cards. It was amazing!! Thank you.'
Priya

joined Englefield Green Rainbows in January this year and is really enjoying it. She received her Promise Rainbow badge and certificate on 23 March and is very proud of this. P

riya

also earned her first Rainbow sew on badge for completing the unit on animals.
'We are very happy overall with our school - thank you.'
'I have really enjoyed the experience (of being a Book Buddy)! Everyone has been so welcoming.'
'I have never been to a lesson like that before!!! Really enjoyed it. Thank you!'
'All the children clearly gained so much from this experience.
The passion for learning was seen on all their faces.
A well planned event that that was an absolute joy to watch. A fabulous finish to a topic'
'My child is engaged and interested in what she is learning.'
'I liked the dance & volcanoes were fabulous. Well done all for good work.'
'Teachers are always doing what's best.'
'I've had 2 fab weeks so far reading with Reception. Plus I've now been to Marwell Zoo with Y1 and Bocketts farm with Reception which were great fun!!'
'We enjoyed the (Fab Finish) event being more personal in the children's classrooms & seeing their 'products'.'
William in Year 1 has now received ASA's Stage 3 Swimming Award- well done again William!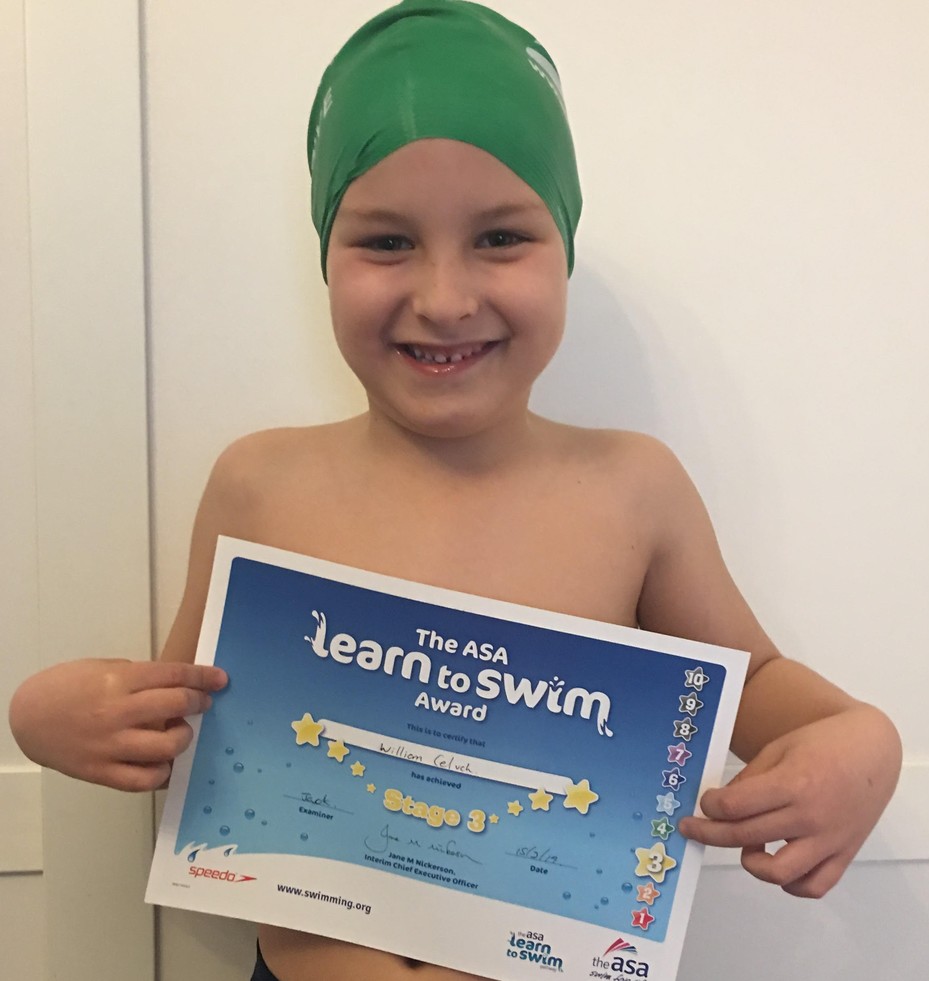 'Homework is sometimes challenging, other times easy - seems appropriate balance.'
'Fab Finish was a fantastic show of what they have learnt and lovely that the children had decided themselves what they wanted to present.'
Book Week Character Fancy Dress winners!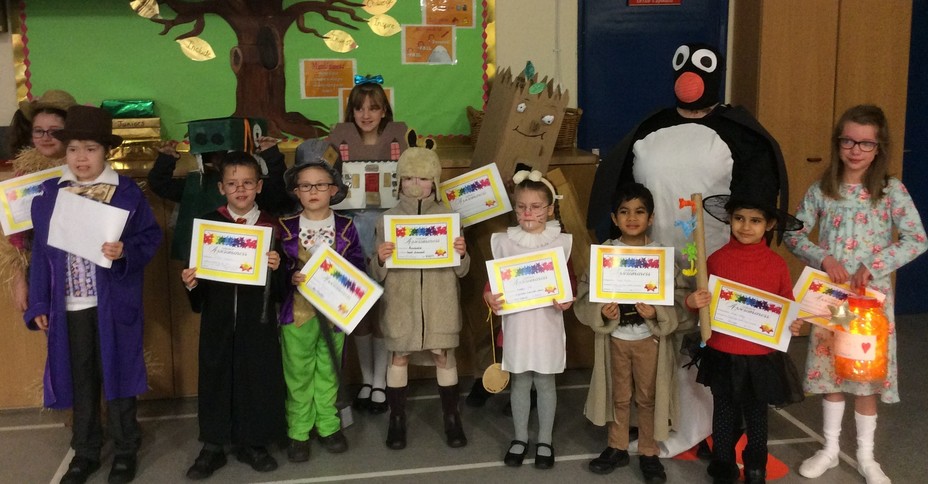 Well done to Yash and Arya in Reception, Maddie and Annabelle in Year 1, Yashwanth and Ellis in Year 2,
Cameron in The Lighthouse, Lily in Year 3, Mercedes in Year 4, Erin in Year 5, Amelia in Year 6,
Nathan in The Harbour Centre and not forgetting Mrs Burchell from the staff team!
You will see from the photo below taken in assembly that standards of the costumes were very high again this year.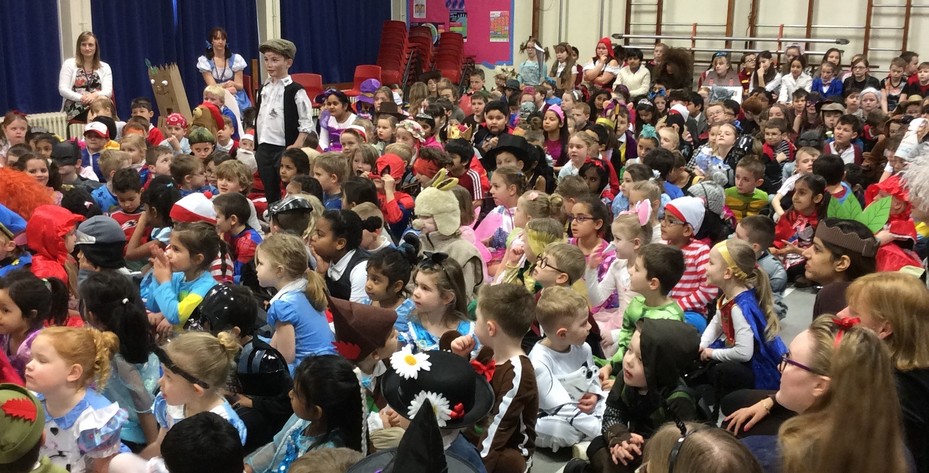 'Allows child to learn independence.'
'I feel welcomed by the classroom teachers and children and look forward to reading with them on a Tuesday morning; it has been great to see the children improve and develop their reading skills.'
Fab Finish - 'I think it was perfect! Well done.'
March 2017




Children from each class helped to design and paint this wonderful artwork to represent our school values of Include, Inspire, Invest. We are proudly displaying this amazing painting in our dining hall. Please come and see it and tell us what you think!








'Always impressed with responsiveness of class teachers to my concerns.'
'It is a great feeling to see the kids excited about reading with us but also for those that aren't so keen to see their progress and how much of a difference we can make'.
Fab Finish - What I liked.. 'Everything! Especially the chat with our child at the end, sooo happy to show us their learning, soooo happy to see them in their environment...'
Tiffany in Year 3 receiving a certificate at Tamil School.
Below is the ASA's Stage 2 Award certificate received by William in Year 1.
He is now able to swim 5 metres confidently on both front and back.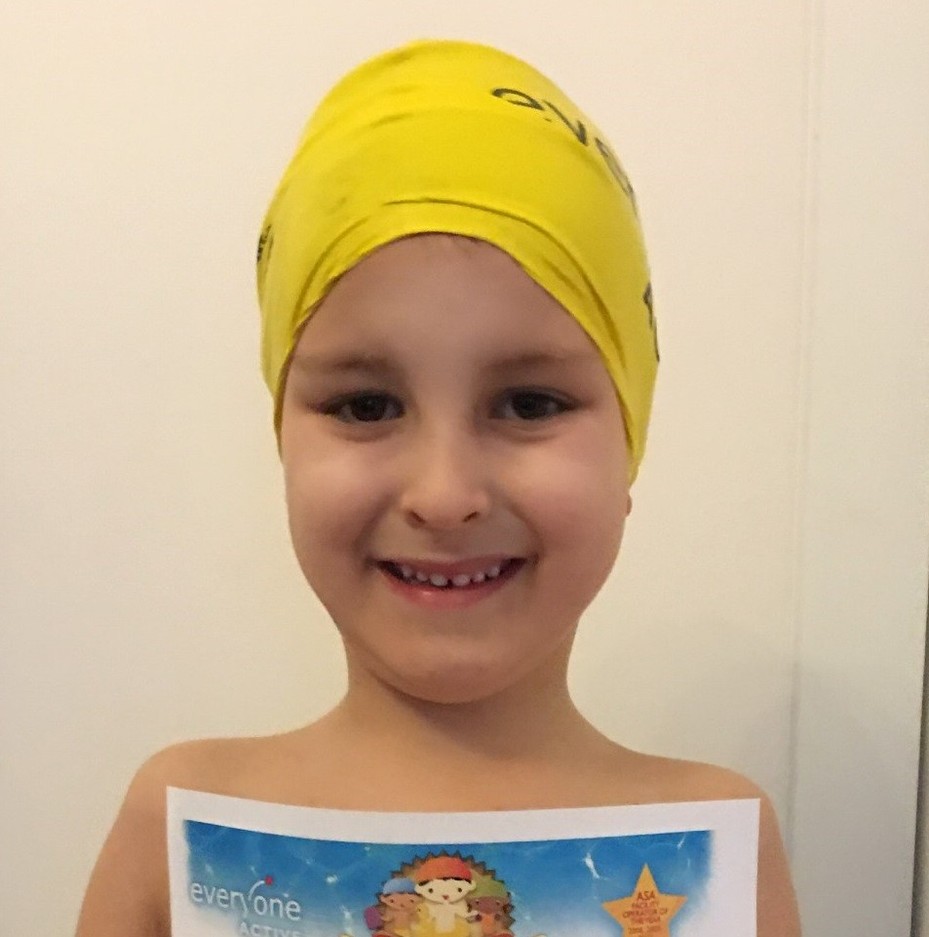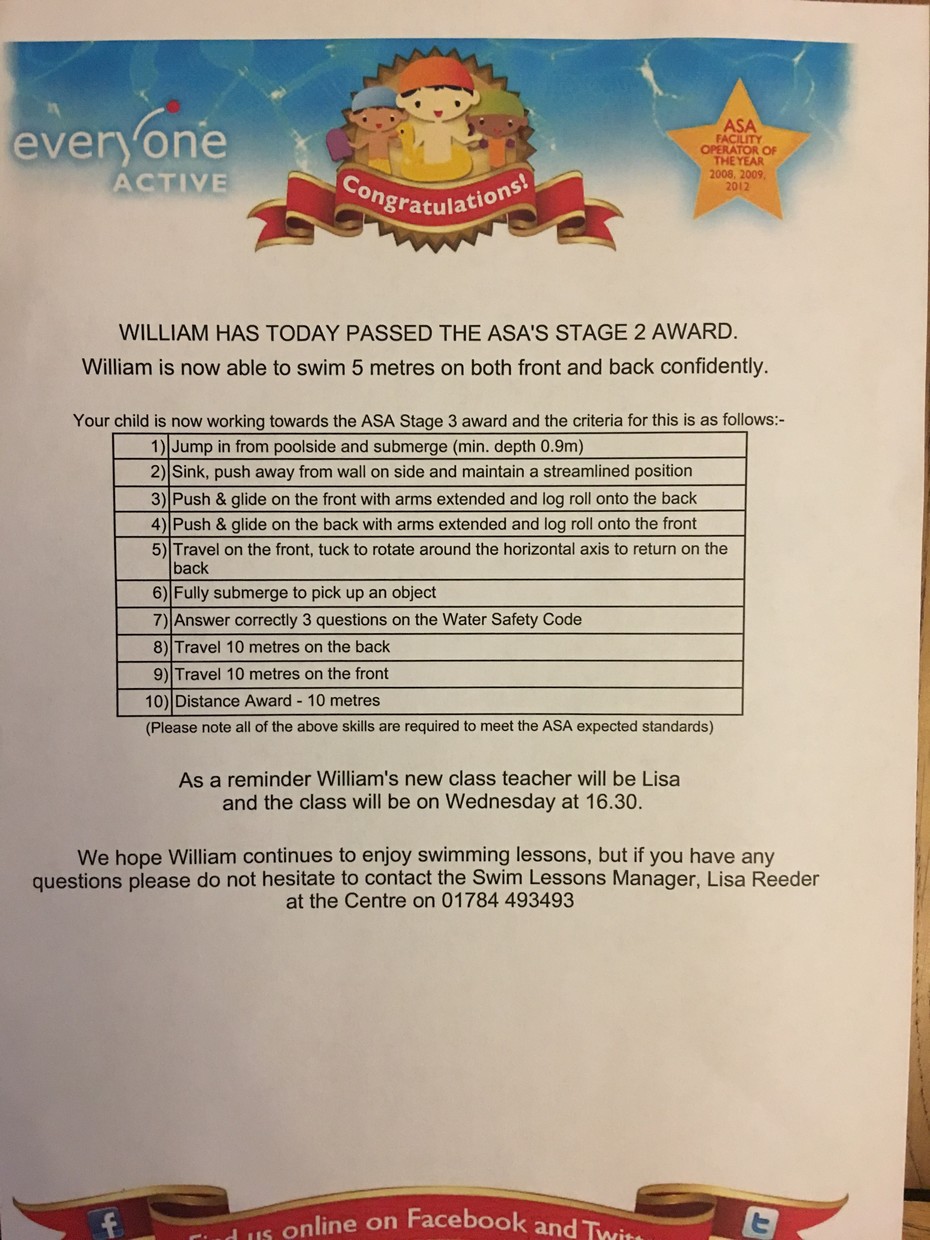 Evie in Year 6, winner of the yearly junior trophy at her dancing school in November 2016.
Lily in Year 3 has discovered a love of baking. She received some baking equipment and a cook book for Christmas and has embarked on creating something delicious every weekend.
Lily decides what she is baking and completes the process independently with minimal help from an adult - the only thing mum and dad do is put things in the oven.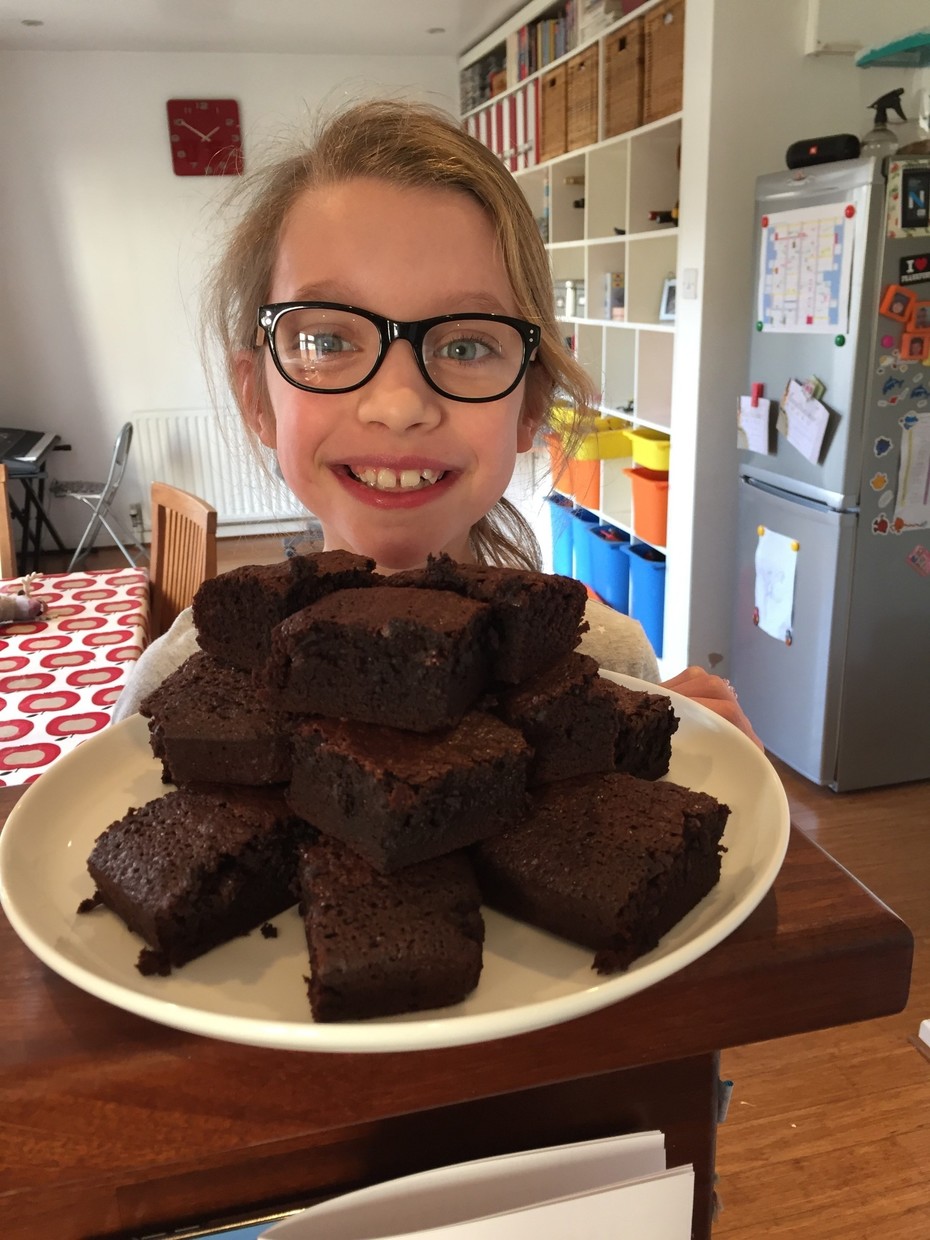 Macy and Erin in Year 5 celebrated receiving their wildlife explorers badge at brownies. They had to learn about different wildlife.

They made bird feeders at brownies and then put them outside and participated in the RSPB big garden bird watch. They also made nests out of different materials.
Look at Max in Year 3 reaching the top of the climbing wall.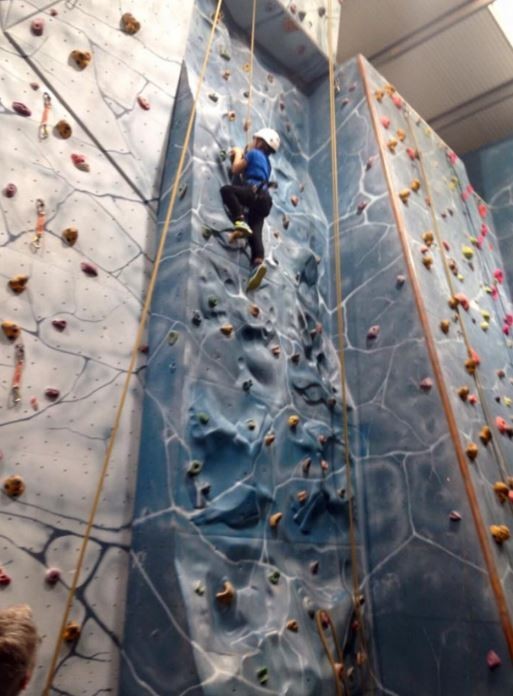 Serenity (Yr 2 Hedgehogs) earning her first proficiency badge in Gymnastics!
Here is a picture of Jenson from Year 1 Squirrels, being invested
into Beavers.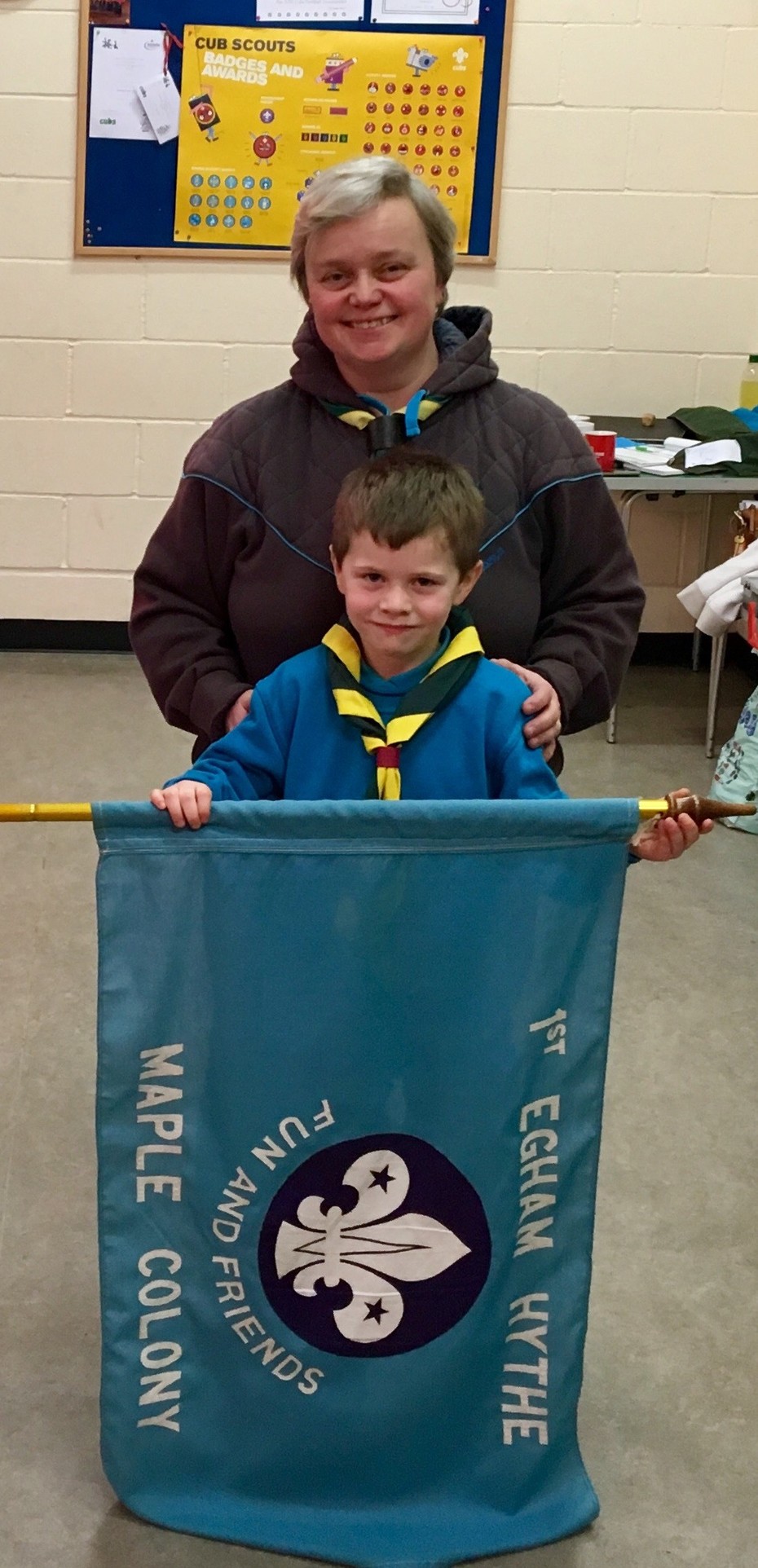 Members of the after school ballet group.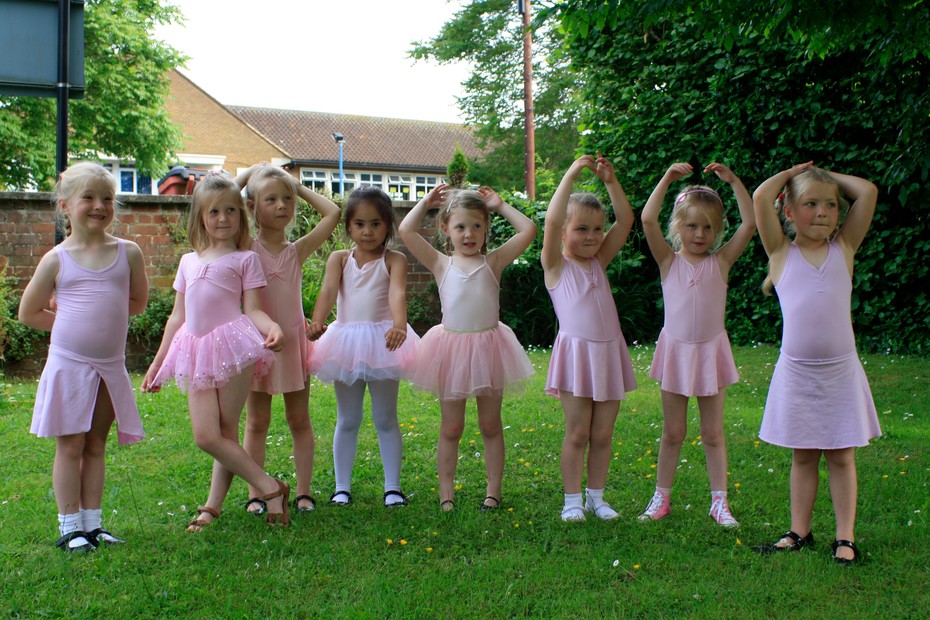 Jacob in Year 2 Badgers with his football trophy.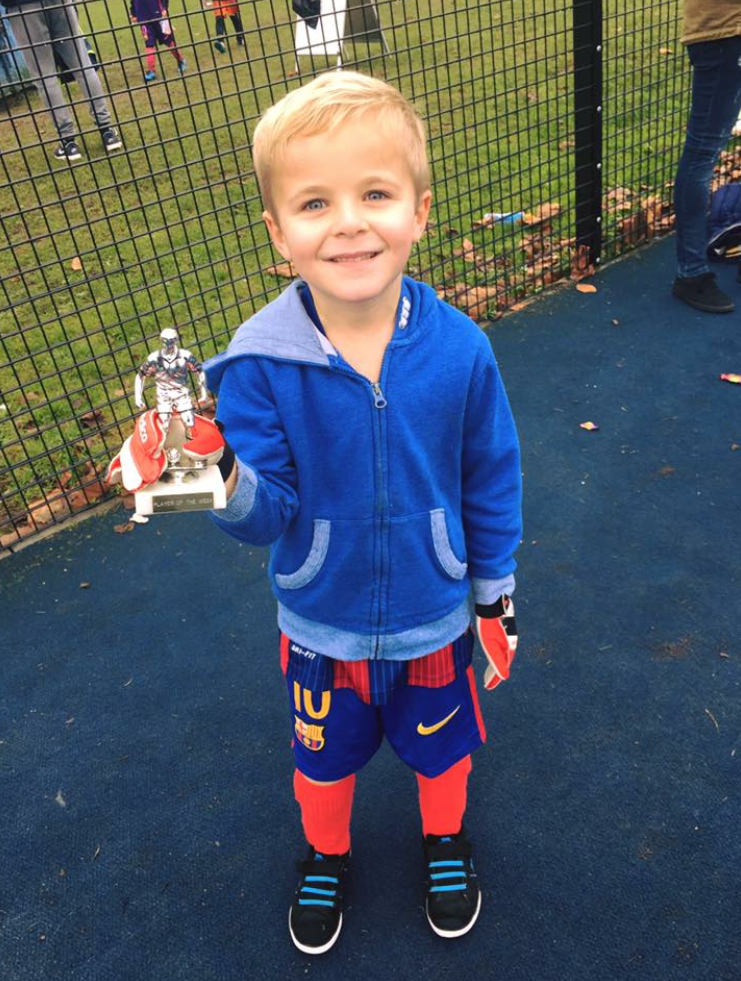 Joshua from Year 6 with his swimming certificates and badges.
'I really enjoyed the Fab Finish, it had a celebratory feel to it...... I can't think of anything to improve it'
'....a caring environment...'
Sophie in Year 3 designed a wonderful poster, as part of her homework, telling everyone why they should come to our school.

Here is a photo of Sophie with her poster.

And this is what she said about The Hythe.

What a fantastic, colourful advert for our school!

The Hythe Community Primary School

So get clever here.

Come and learn here because:

We are kind and always remember we are always here for you.

If you are lonely we can help.

We will never let you down.

Do you need a friend? The Hythe are always here to help.

The Hythe is a lovely school and you get to do really fun things but you should know if you're naughty you might get a yellow card.

If you want to come you just come. The more the merrier.

We love the Hythe.

We all have good friends.

We all do great learning.

We are never going to let you down.

If you need help you get it here.

We do fun things.

Our teachers are lovely.

Come here we are the best learning school ever.
.
'I liked the mini introductions on the way to the class. More intimate, could hear everything ..... the children seemed more relaxed doing it (Fab Finish) this way.'