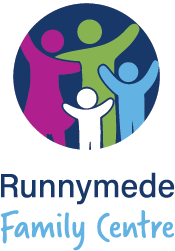 The Hythe Community Primary School is the lead provider for the borough's Family Centres, working with families with children aged 0 – 11 years who would benefit from specialist support. In Runnymede, the hub site is at the Hythe School and there is a satellite venue at Addlestone Young People and Family Centre.
The Runnymede Family Centre works closely with other services and partners that support families, to make sure that they get the support they need, when they need it. The aim of this support is to help families build their own resilience and self-reliance.
The support we can offer at the Family Centre is provided by trained staff who understand the challenges families face, and our aim is to help them to find solutions to some of the parenting and relationship difficulties and grow in confidence to manage issues they might face in the future. Some of this support is provided one to one in family's homes by outreach workers, and some is offered in groups, where support can come from other families experiencing similar issues.
Requests for support can come from other professionals who have contact with families, for example Health Visitors, GPs, schools and early years settings and these referrals may come to the Family Centre through the Early Help Hub. We will make contact with families once they have agreed that they would welcome some extra support.
Families can also access us directly if they feel they would like some extra support. We offer parenting programmes and some group activities for some families with common issues to come together.
Our staff work across the two sites. Members of the team will be at Addlestone Young People and Family Centre on Monday, Tuesday and Thursdays and at the Hythe site Mondays to Fridays. The exception to this will be occasionally during school holidays, when staff may work remotely.
Please contact us directly if you would like more information.
Office: 01784 464395
Email: info@runnymede-familycentre.org (please use for any general enquiries)
Website: https://runnymede-familycentre.org/
For enquiries regarding referrals or allocations to our service, please contact: referrals@runnymede-familycentre.org
Breast Pump Hire and Healthy Start Vitamins
Adult Courses available at Brooklands College - Find Out more at our Open Day Event - Tuesday 5th December from 12-2pm at Addlestone Young People & Family Centre
Learn how to cook and eat healthily on a budget.
Learn new skills - cooking from scratch, meal planning and budgeting. Recipes from soup to cookies - for free!
Join us on Tuesdays from 23rd January 2024, 10am -12.30 for 6 weeks (break for half term 13th Feb) at Addlestone Young People & Family Centre, Church road KT15 1SH.
Contact Helen Bunclark on eatwellspendless@runnymede.foodbank.org.uk or Runnymede foodbank on 01932 943056 for more details and to book a place.
Paediatric First Aid Course
We will be having our next Paediatric First Aid Course on Tuesday 30th January 2024 from 7-9pm which will be run at the Addlestone Young People and Family Centre. Please call or email us and we will add you to our waiting list.
Surrey Family Information Service provides information on services available in the community for families.
Take a look at how Tribe can help you find groups and services, or jump straight in and search the directory.
Job Club
Looking for work? Come and visit the Job Club at Addlestone Young People & Family Centre on the following dates: 19th December from 10am-12pm
Mentell is a men's mental health charity providing free online circles for men aged 18+ to talk in a safe and confidential space, free from advice and judgement. Circles take place online on Monday nights from 7-9pm, aside from bank holidays. Men can self-refer on the website here: www.mentell.org.uk or can be referred in by anyone with their consent and have a 10 minute informal chat to understand how the service works: https://www.mentell.org.uk/support/referrals. There is no waiting list and service users can access support within a week.
For information on how Surrey County Council hold your personal data have a look at the link below.