We hope you enjoy looking at our photos.
Mr Brain and Year 5 drumming with Mr Walker from Surrey Arts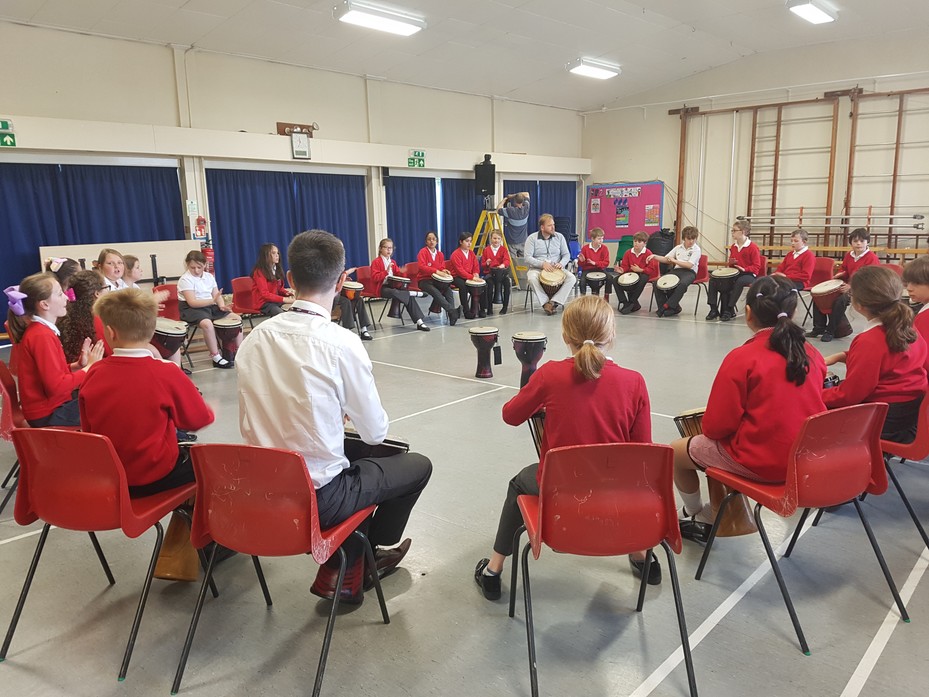 World Book Day character costumes!
Our older children were fantastic Book Buddies for children in our infant classes during Book Week 2017.
Year 5 gave a fabulous performance, sharing the skills they have learned in Music recently. They have been lucky enough to have been learning to play the guitar!
What a day for fundraising! A mountain of chocolate donated for tombola prizes at this year's Christmas Fayre and Junior Leadership Team spotacular cake sale for Children in Need 2016.
Years 6's leaving assembly was an oscar winning performance. Well done to them all for their achievements and thank you for your present to the school. We will display it with pride!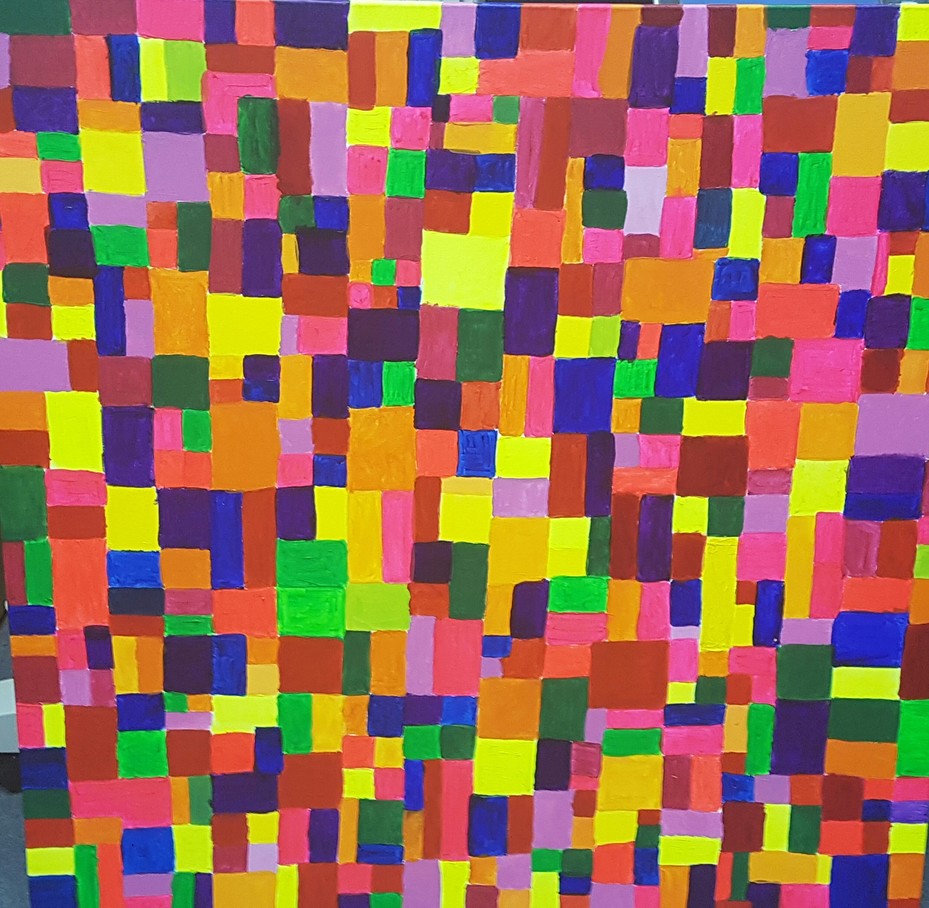 &nbsp
&nbsp
&nbsp
&nbsp
Year 6 enjoyed having breakfast together at school during SATs week. It was a calm and motivating start to each day.
We are always delighted by the creativity of our children and their families - look at some of the amazing character costumes worn to school during our Book Week celebrations in March 2016.
On Friday 29 January, a team of volunteers from British Gas presented 'Energy from the Earth' workshops to the children in Years 3, 4, 5, & 6.
The workshops took pupils on a fun learning journey to:
• Find out what energy is and how it is used in our homes
• Explore the differences between electricity and gas
• Learn about fossil fuels
• Find out about alternative, renewable energy sources and considered their advantages and disadvantages
• Think about ways we can use less energy
• Design an energy-friendly home
• Make energy-saving pledges
We would like to say a big thank you to the team (pictured below) for taking the time to share this with us.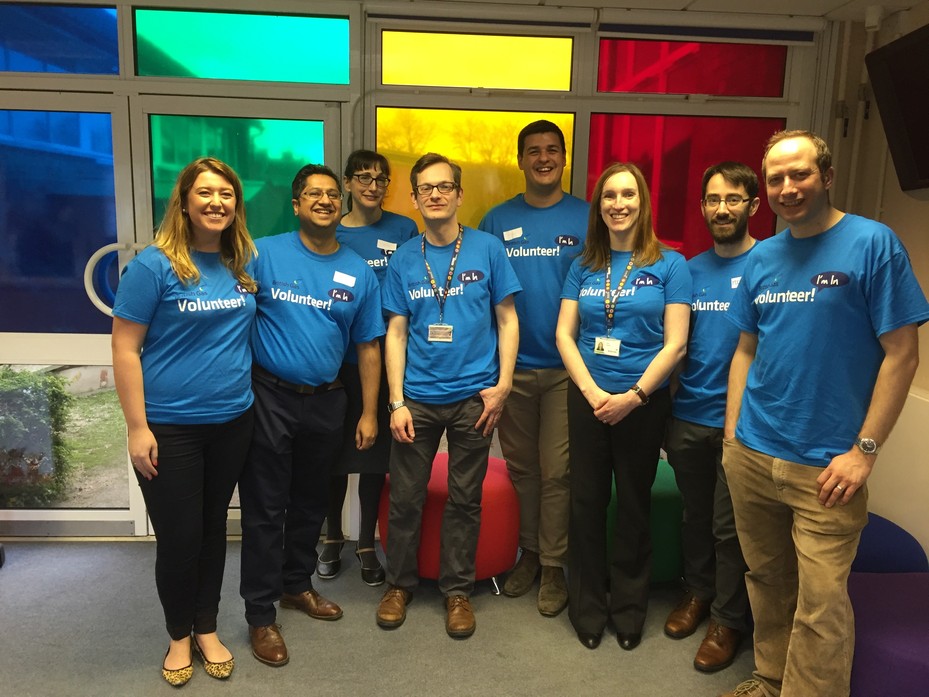 On Wednesday 21 October Year 6 hosted a tea party for senior citizens from our local community. Families generously donated food items which were packaged up as gifts for our visitors to take home with them. Everyone was so generous that we had supplies left over which we have donated to the local food bank.
The children did a brilliant job of hosting and loved chatting with everyone. Shruti told us that she had learned a lot about World War 2 evacuee children who were based in Egham. Jayden said that he really enjoyed helping our visitors into the hall and it made him feel very happy to see them happy.
On Thursday 18 June, the Mayor of Runnymede, Councillor Derek Cotty, and the Mayoress, Mrs Susan Jones, visited The Hythe. The Mayor was very involved in organising all the local Magna Carta celebrations and in a special assembly for Years 1-6 he was happy to share his memories of the 800th Anniversary event at Runnymede on 15 June. The Mayor then donned his ceremonial robes and popped in to see both Reception classes.
During our Democracy Week the children were asked if they would like to stand for election as Headteacher for the day. We will announce the winner once the votes have been counted. Here are the shortlisted candidates: L-R Teagan, Sasha, Louella, Isaac, Morgan and Ben.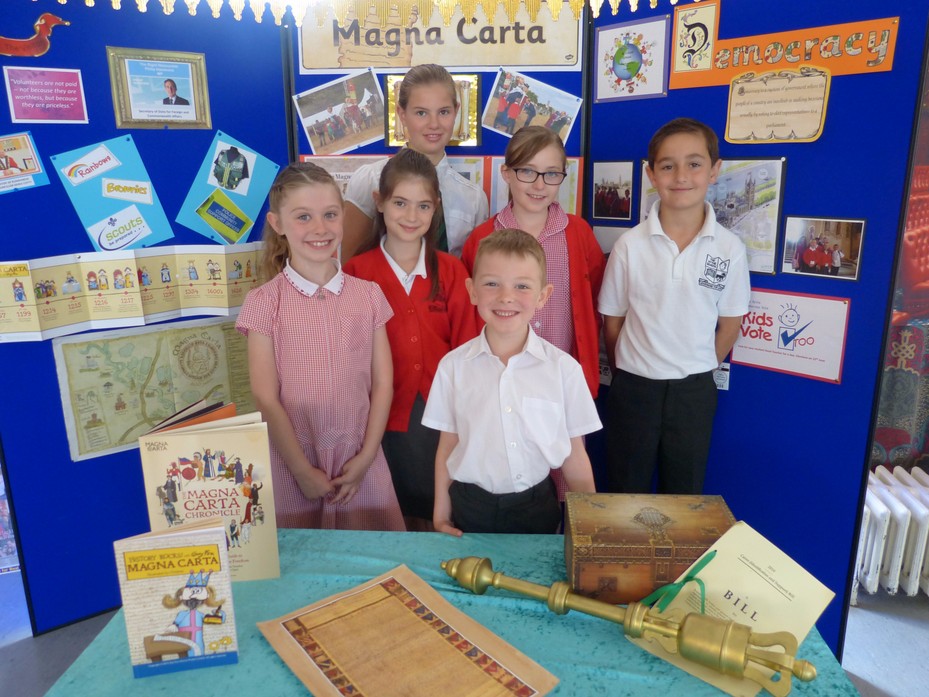 On Monday 15 June some of our pupils and parents were invited to take part in the official celebrations for 800th anniversary of the sealing of the Magna Carta. They brilliantly assisted Surrey Arts team with the parade of Giants of Freedom. The giants were extremely popular with everyone and must now be in possibly thousands of photo albums around the world! Did you see them on TV? Prince William stopped to talk to some of the children - how exciting! Below are some fabulous photos and videos of the day.
And here is a video of the Giants in action with dancers from Magna Carta School.
On Friday 12 June our local MP, Mr Philip Hammond, presented a special assembly to the children about Magna Carta and his work as an MP. The children asked him some brilliant questions; 'What inspired you to be an MP?', 'Why do you care about us?' 'Is being an MP hard work?' etc. The children learned a lot from his visit
Mr Hammond also congratulated the winners of the Magna Carta colouring competition and handed them their prizes.
On Friday 5 June six members of our Junior Leadership Team visited the Houses of Parliament and were shown around the Palace of Westminster. They went into both the House of Commons as well as the House of Lords and were very impressed by all the gold leaf decorating the fantastic plaster moulding and furniture. Photography inside the Houses of Parliament is not allowed so here are some of the pictures we took before and after we went inside.
On Monday 24 November children from Year 6 were invited to the official opening of the new play area at Pooley Green Road. The children were involved in the design process and really enjoyed being some of the first to try out the new equipment.
Wednesday 12 November was Children in Need fundraising day at The Hythe. We were incredibly lucky to have a special visitor organised by our friends at British Gas. Pudsey Bear took time out of his busy Children in Need schedule to share our assembly and congratulate the competition winners.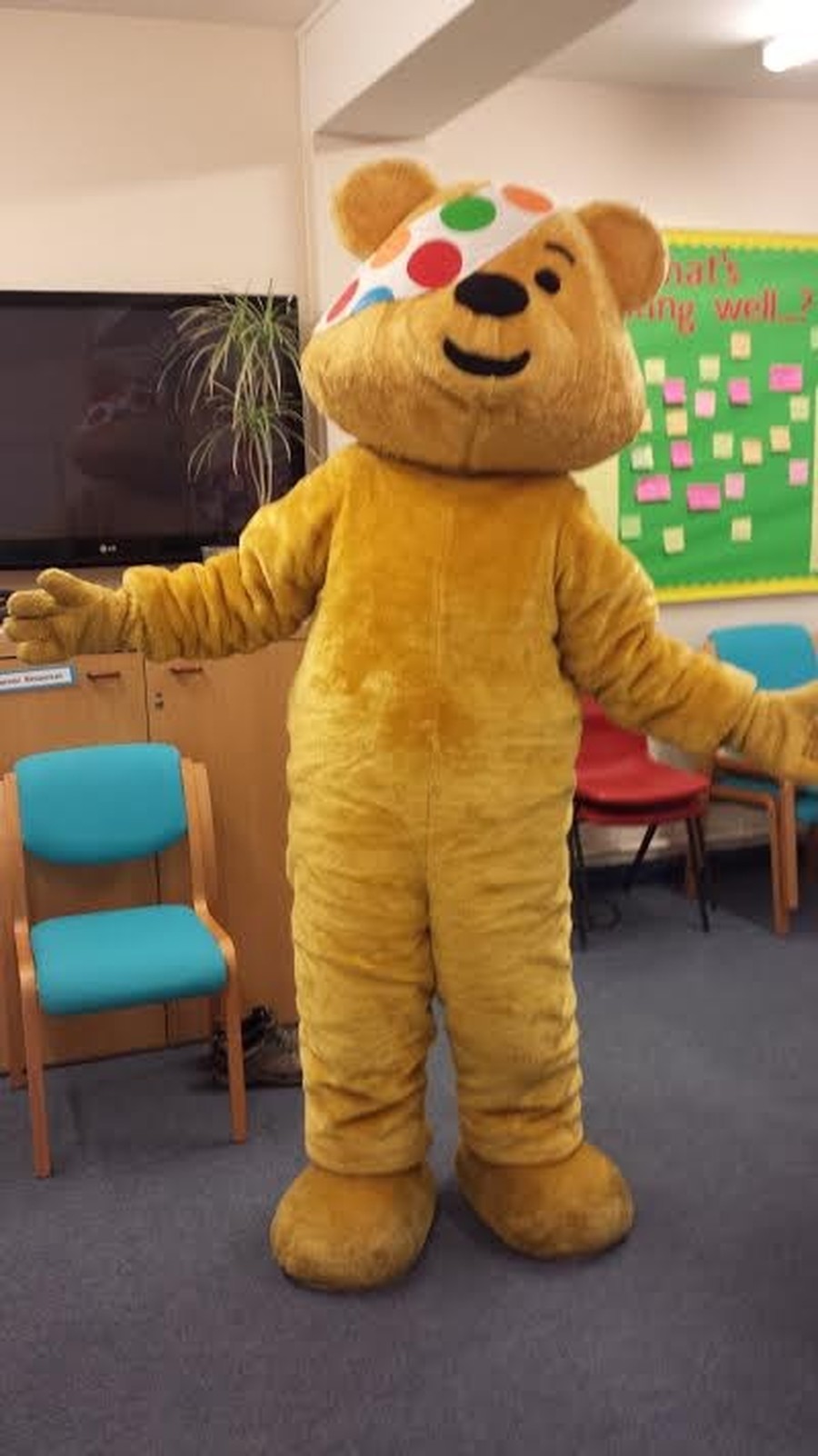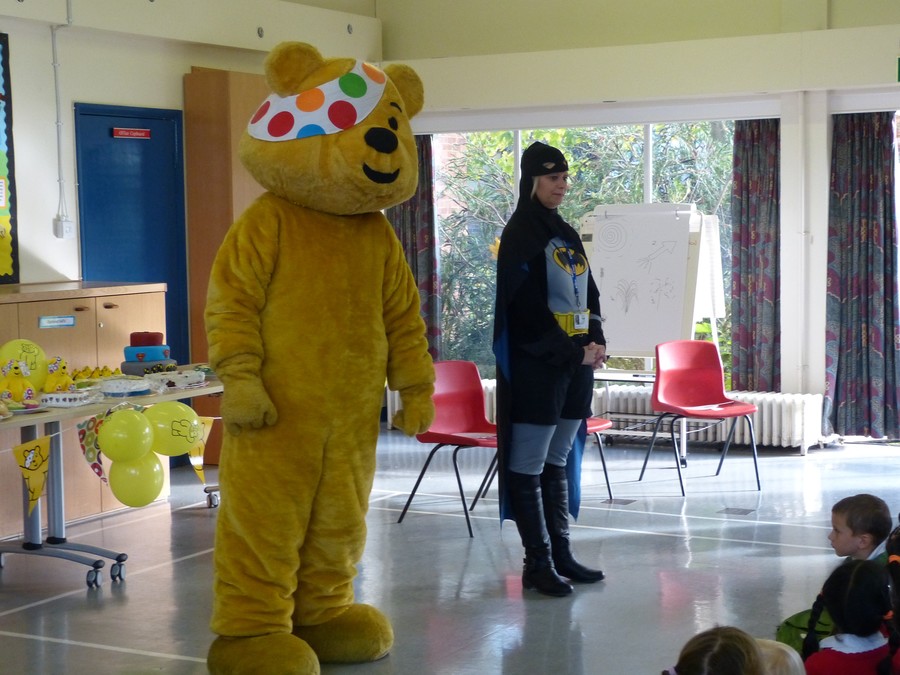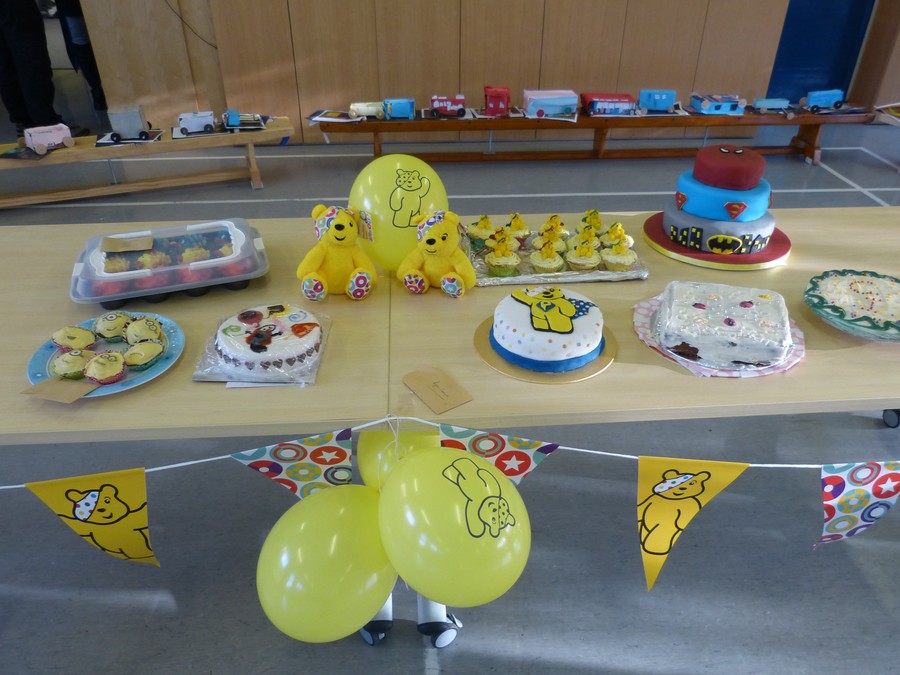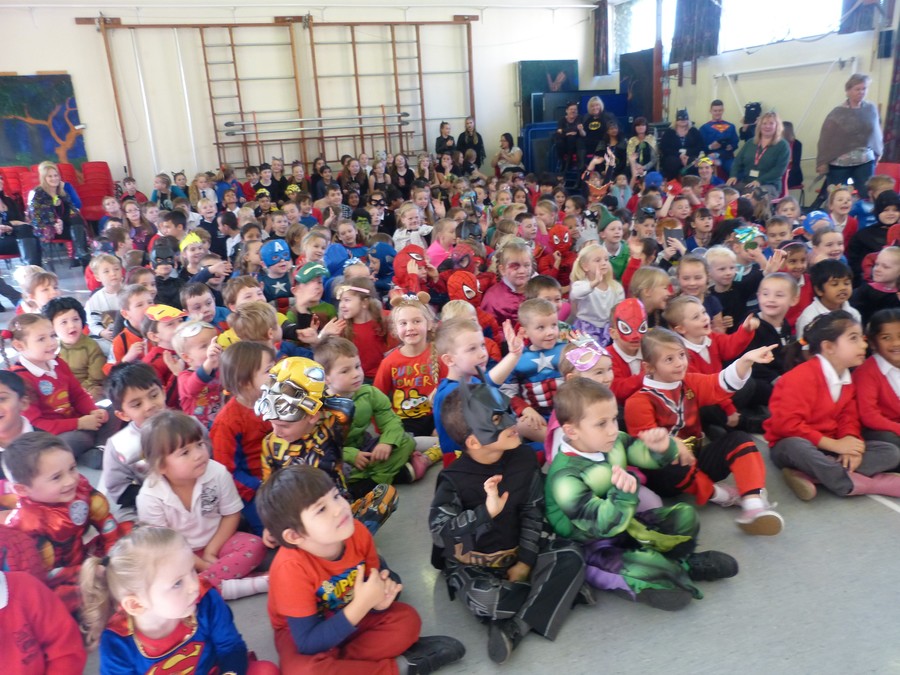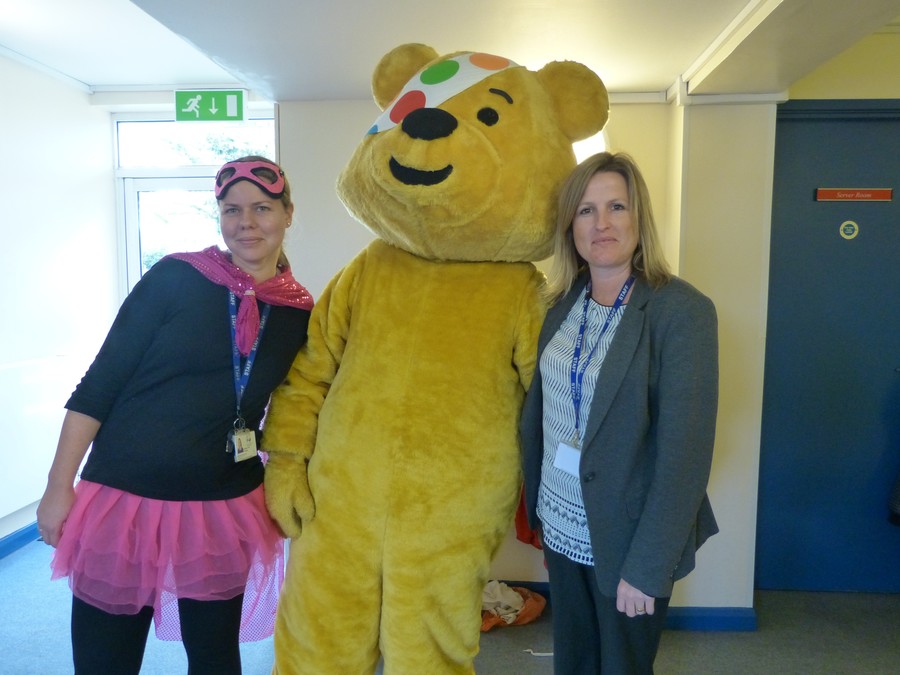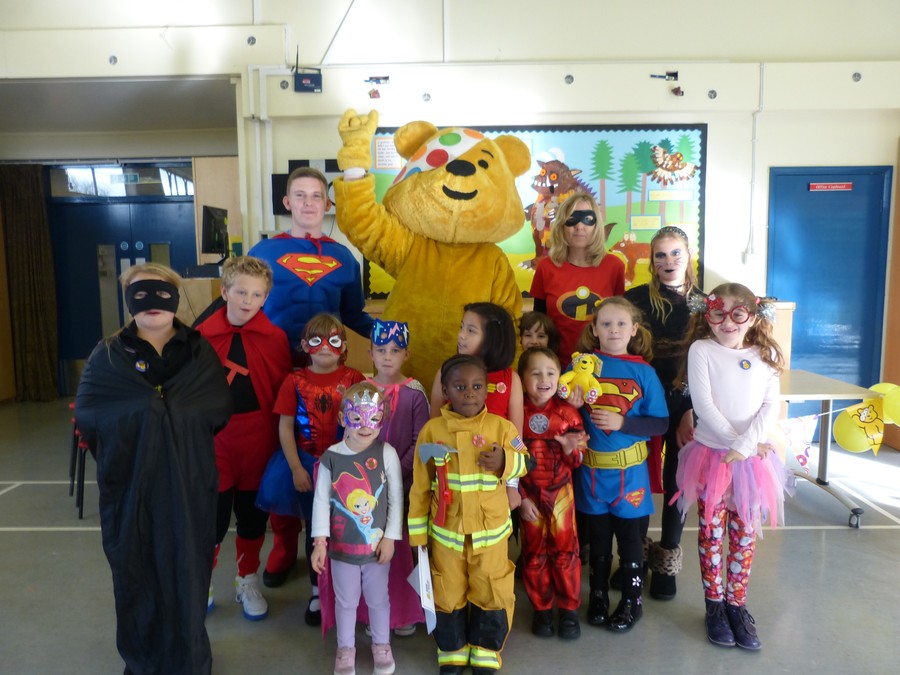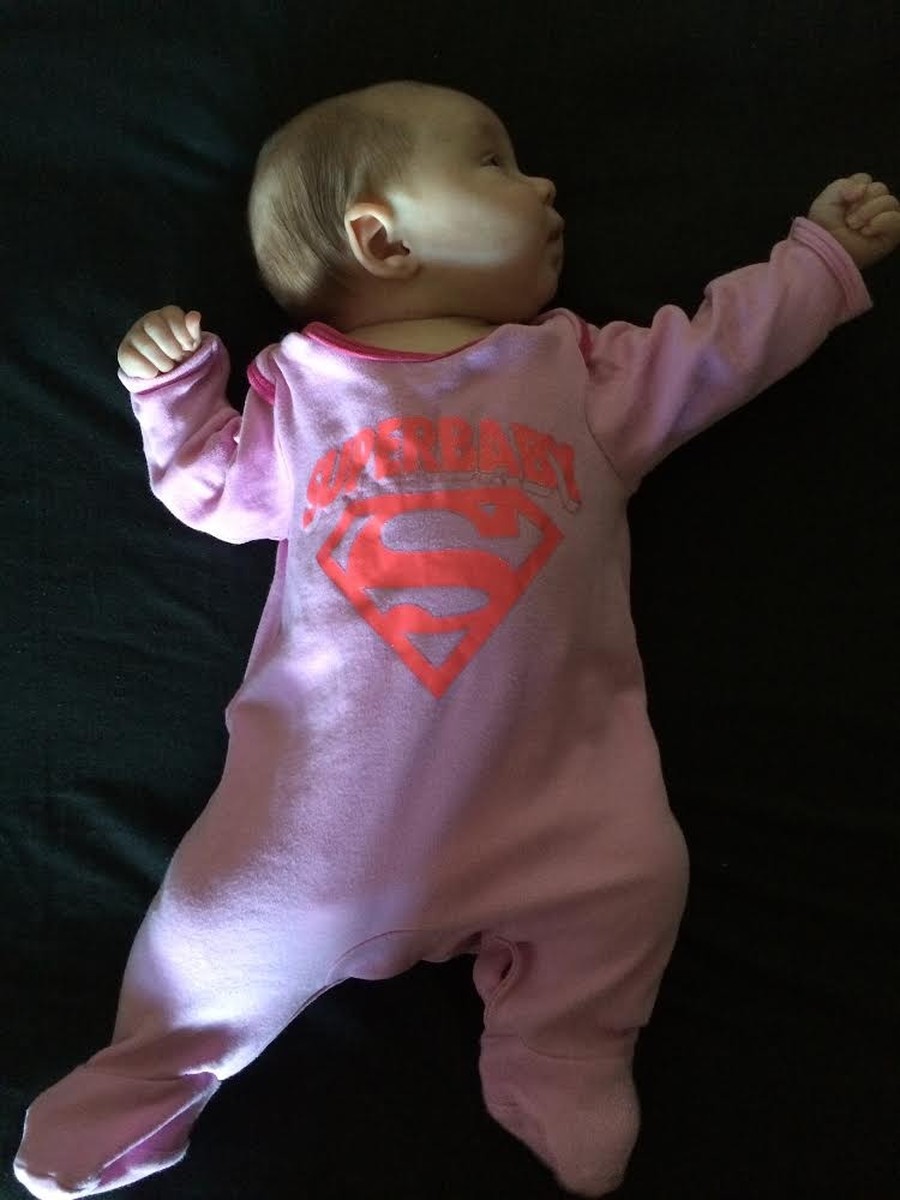 On 24 October, eight members of Royal Holloway University's hockey team painted a mural on the Horsa building to brighten up the play area used by children in our reception classes. They were volunteering as part of the university's Make A Difference Day. They certainly have made a difference!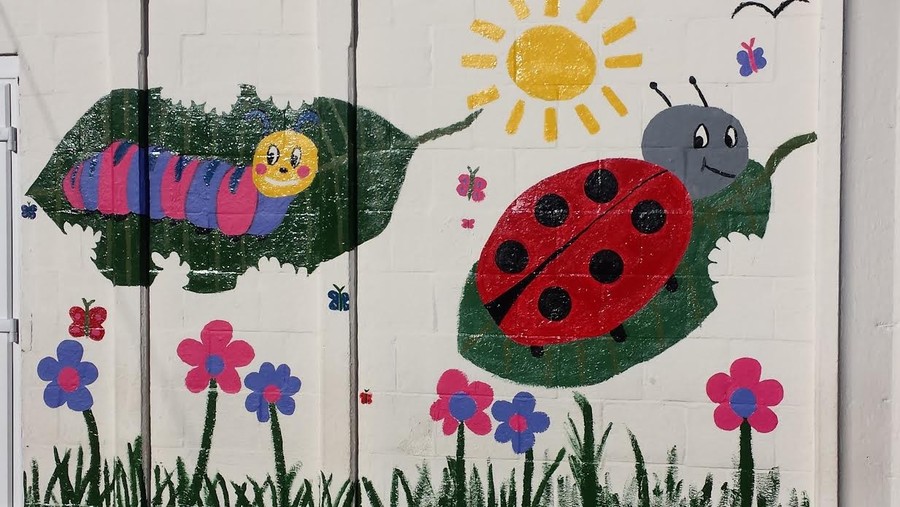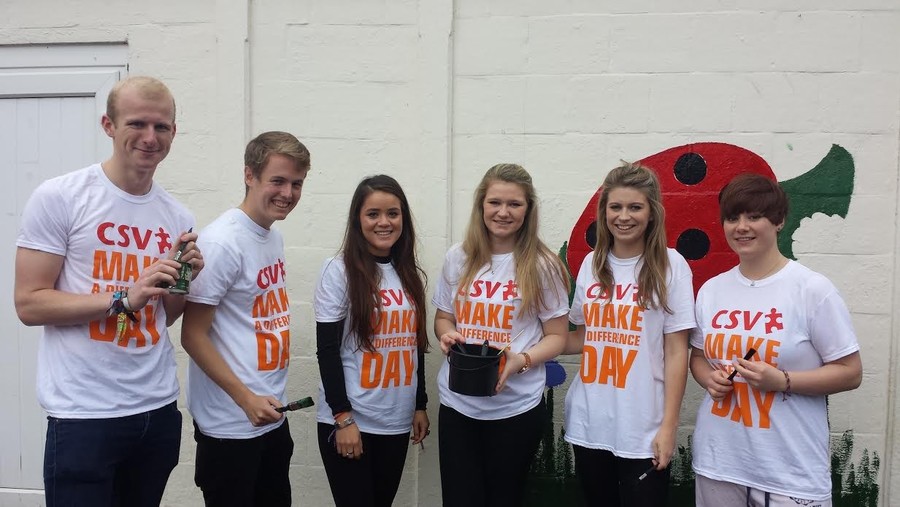 Sharing our annual Harvest Festival Celebrations with senior citizens from Manor Farm Day Centre, Egham and Moor House residential care home, Staines is always a joy and this year's tea party was no exception!
October 2014 has seen lots of involvement with our local community. We consider ourselves fortunate to have so many people willing to help us and connect with us.
Do you remember how dull and uninspiring that long stretch of fence panels along the side of the school looked? Well not any more thanks to some wonderful volunteers from British Gas giving up their day to paint it blue ready for the addition of activity panels. British Gas also helped fund the panels. We can't wait for them to be installed.
On the same day that the team from British Gas were busy at the school, staff member Liz Gibson and Steve Baynes, Parent Governor, were running an exhibitor's stand at Royal Holloway University Volunteers Fair. They met lots of the new students starting at RHUL this year and nearly 70 of them expressed an interest in volunteering at The Hythe! We hope that many of them will visit our school and help make a difference. They can do this in lots of different ways; by being a Book Buddy, running a workshop (drama, music, art, animation, sport etc) or by helping us with projects such as mural painting.
June 2014 - Year 6 Maths group using the wildlife area for data collection to produce pie charts. What a great way to make Maths more fun!
Here is one of the two 'Giants of Freedom' made by our children that will join other giants made by pupils at other local schools at a Fathers' Day Parade on Sunday 15 June at Runnymede Magna Carta Memorial grounds. The event celebrates Fathers' Day and the 799 year anniversary of the signing of the Magna Carta. Bring a picnic and join in the fun!
This giant of freedom represents suffragette, Emmeline Pankhurst, who campaigned for votes for women.
2-6 June is Volunteers' Week and in addition to our lovely Book Buddies and parent helpers we are fortunate that four teams of students from Royal Holloway University have been in school this week. One team ran a 'Glee Club' workshop with Year 4 that made them very 'Happy', others have been adding beautiful illustrations to our playground mural (when they arrived it was raining so they became Book Buddies until the sun came out!) and some of the students spent all day on Thursday weeding and tidying our wildflower meadow. Here are some lovely photos to show you what they got up to.
Monday 19 May - Maypole Dancing! Here are photos of children in Year 6 having a great time. Every child had the chance to dance.
This is the wildflower turf in bloom in mid-May - growing more beautiful by the day!
Tuesday 8 April 2014: WOW! Look at our wildlife zone now! Thank you so much to the wonderful volunteers from British Gas who came to the school and planted the hedging border, installed two willow arches, planted another 20 young trees AND, after doing all that, weeded and dug over the beds in the playground. We are so lucky to have these fantastic people in our community.
Book Week 10-14 March : Fancy Dress
| | |
| --- | --- |
| | |
| | |
| Who is this grumpy ladybird? | The winning costumes. |
| | |
| | |
| | |
| It's surprising that there was any breakfast food left with the hungry caterpillar serving! | |
| | |
Wednesday 12 February - our flooded site
Christmas at The Hythe 2013
Thursday 28 November 2013 - Duncan Greig, our previous Headteacher, donated some trees for our wildlife area. Sara and Kacper, two members of our Eco-council helped Colin Martin and Liz Gibson plant them. Another great reason to look forward to next spring!
Thursday 24 October 2013 - It looks like the meadow turf we laid at the weekend has settled in. It already has some flowers in bloom!
Tuesday 22 October 2013 - Visitors from two local day care centres for older people enjoyed sharing the Hythe's Harvest Festival celebrations at a tea party hosted by Year 6 children. Reception Class and the school choir entertained our guests with harvest songs. The smiles on everyone's faces say it all!
| | |
| --- | --- |
| | |
| | |
| | |
| This lady used to dance with the Tiller Girls at The London Palladium | This is a group of Tiller Girls from the 1950s. We wonder if our visitor is one of them? The dancer on the right looks just like her! |
| | |
Saturday 19 October 2013 - A team of amazing volunteers, Adam, Alfie (from Year 6), Alicia, Amy, Andy, Angela, Charlene, Doug, Liz, Nora, Philip and Simon, arrived from 9am to unload 120 rolls of wildflower meadow turf and in less than two hours laid it to create our new wildlife zone. What a difference they and the other volunteer teams who worked on the space last month have made. We can't wait to see how beautiful it will start to look next spring and into the summer! Thank you for all your hard work :-)
Wednesday 2 October 2013 - A team of parents helped us finish the clearance of the wildlife zone; raking the ground smooth and removing large stones in preparation for the laying of the meadow turf. A huge thank you to Melissa and Andy Jagger, Dee Baines-Neta, Paul Garbutt and Holly Poore for all your hard work.
Tuesday 24 September 2013 - Fantastic volunteers from British Gas offices all over the country (including some who drove from as far away as Leicester and Manchester) gave up a whole day to clear what will be a wildflower meadow area. It was incredibly hard work but haven't they done an amazing job! We can't thank them enough. Keep an eye out for more pictures soon when we have laid the wildflower turf.
Saturday 13 July 2013 - PTA Summer Fete. It was a glorious day, lots of sunshine and maybe a little too hot but everyone had a lovely time.
Friday 21 June - Year 5 went to see World Cup Rowing at Eton Dorney. Their tickets and coach travel were sponsored. Nathaniel Reilly-O'Donnell, a TeamGB rower, organised the ticket sponsorship which was provided by James Hiatt of BNP Paribas and Community Matters at Procter & Gamble donated the coach costs. What an incredible experience they had because of the generosity of others. Who knows, this may have inspired some of them to give rowing a try when they are old enough. Mrs Peart also received this lovely email from one of the volunteer crew at the event :
My name is Stuart Hare, I was part of the Water Safety Team at Eton Dorney last week. I have just been on face book and read a nice thank you from Liz Gibson and a link to your school as to their visit on Friday.
I would just like to take this time to say thank you to all the young people at Hythe Primary School. It is the young people who made the event as amazing as it was with their Eton Roar...
I was lucky enough to be a Games Maker at Eton Dorney last year at LONDON 2012 and to witness young people being an amazing example and ambassadors for their school was amazing.
Thank you so much for making our weekend one to remember
Tuesday 4, Wednesday 5 and Thursday 6 June - Students from Royal Holloway University volunteered to paint the new fairy story mural on the long wall in the playground. Haven't they done an amazing job? We would like to thank them for all their hard work.
Friday 24 May - Workshop run by Lev Taylor from Save the Children about Enough Food For Everyone If campaign. Did you know that 1 in 8 children in the world go hungry every day even though there is enough food for everyone? Also that two million children a year die from starvation every year? Years 5 & 6 learned more about why this is and realised how unfair the situation is. They wrote thoughtful, inspirational and moving messages to world leaders on plates and spinning flowers that will be seen by David Cameron and other heads of government in June. Their flowers were planted alongside thousands of others in Hyde Park for The Big IF event on 8 June. The first picture shows the whole installation at the park and, although you can't see them clearly, the children's flowers are in the top right hand corner.
Wednesday 22 May - Sports Day and Community Picnic - Trophy winning house is ELM!
On 23 April staff and governors at the school and at The Haven Children's Centre dressed in purple and held a special coffee morning during their break to raise funds for the Aplastic Anaemia Trust ( http://www.theaat.org.uk). Everyone made a donation to wear purple and then paid for cakes made by some of the staff and by former pupil Zoe Adams who is recovering from treatment for aplastic anaemia. We raised over £150 for the Trust. Amazing!
Visit to St Paul's Catholic College as part of National Science and Engineering week for 'Whizz bang' workshop evening on Thursday 21st March.
Staff and children celebrating World Book Day on 7 March 2013, sharing reading achievements in a celebration assembly with specially invited guests - our Book Buddies!
On 3 October 2012, a Games Maker who volunteered at both the Olympic & Paralympic Games and an Olympic Torch Bearer visited the children to talk about their experiences of the Games. All the children had the opportunity to have their photo taken with the torch belonging to Christine Callaghan. Christine ran with it on the first leg through Egham in the pouring rain! Look out for the children's photos on their class pages.
On 10 July 2012, the day that the Olympic Torch Relay came to Egham, Years 3, 4, 5 & 6 took part in a Soda Rocket Relay science experiment supported by Procter & Gamble and BuildCenter.
The children each made a plastic funnel with a simple valve operated by pulling string that allowed them to drop a number of mints into a bottle of cola. Once the string was pulled the mints reacted with the cola to produce a fountain. They didn't all work, some only sprayed a small amount but many of them produced a spectacular fountain. We think you can see from the pictures just how much fun the children had taking part in this.
12 July 2012 - Fourteen lovely volunteers from the BUPA offices just down the road from school came in to run an Activ-Eat workshop with Year 5. The children were able to taste lots of fruit and vegetables including many they had not seen before. At the same time they learned more about the parts of the world the fruits are grown alongside the importance of healthy eating and of physical activity.
Staff member Liz Gibson and Headteacher Duncan Greig are both volunteering at the Olympics and talked to Years 3, 4 & 5 about their experiences so far. The children were then challenged to design a pin badge for the volunteers to reflect their wide range of roles including; helping spectators to find their seats, handing out event results to athletes and officials, driving athletes to their venues and performing in the opening and closing ceremonies.
Here is the overall winner, Tito in Year 5, with his fantastic design and his prize of Olympic and Paralympic goodies generously donated by Sainsburys in Staines.
Tito's design shows hands reaching around the world welcoming everyone to the Games. He really understood that volunteers are coming from all over the world to help the athletes and spectators who are also travelling from many different countries. Congratulations to him!
3 July 2012 Many of our lessons and activities this term have been based around the London 2012 Olympics
26 June 2012 Stephanie Gaynor, a 100m hurdler and a member of TeamGB athletics team came into school to share her love of sport and show the children how to lead fit and healthy lifestyles.
Year 3 spent a morning doing a Shooting Stars Circus Skills Workshop. They had fun practising various circus tricks while at the same time learning how to concentrate, building their self confidence and discovering the science behind the way things work.
31 May 2012 Our Big Olympic Read Competition has encouraged everyone to get reading. A number of children have already read their way around the track!
30 May 2012 We were very lucky with just the right kind of weather for our Sports Day - sunny and warm but not too hot
2 May 2012 Here are some lovely photos from the school playground and the quiet garden
Our lovely new fruit trees have started to blossom

The willow tunnel is really starting to grow into its shape

Year 5 children have been busy making the quiet garden look pretty

Haven't they done a good job - it all looks amazing!

Colin and Ashley from Natural Expressions work hard to keep our gardens looking lovely
24 April Open Box Theatre used live drama, storytelling and audience participation to take the children back in time to learn about the Ancient Egyptians and the Victorians. Here are some photos of the session about Ancient Egypt.
17 April Children in Key Stage 1 met MAC the giant squirrel. MAC stands for Making Attendance Count and the children were read a story encouraging them to come to school and giving them tips of how to be ready on time every morning.
30 March Our lovely willow tunnel is sprouting its first leaves!
28 March 2012 - The whole school was treated to a visit by twelve members of the the congregation from St Paul's Church. Each class took part in fun craft activities to learn more about the Easter story from our visitors and its importance to the Christian faith. It was a lovely way for them to spend time with members of our local church community.
20 March - all the children were fascinated by the wonderful Aboriginal tales of creation as told by Francis Firebrace, an Aboriginal artist and storyteller. His ancient stories brought the history and culture of Australia alive while also getting across the importance of caring for each other and the environment. Francis also brought along examples of his Aboriginal artwork, explaining the meaning of the symbols and showing how pictures enhance the story. Take a look at Francis's website and learn more about him - http://www.newagemultimedia.com/firebrace/
15 March - the whole school was treated to a wonderful live performance by the Irie SteelPan Workshop. Junior and Marcella Bailey showed all the children how to play the steelpan and told them all about the history of the instrument as well as talking more about the Caribbean culture it originated from. You can find out more about Irie at their website http://www.iriesteelpanworkshops.com/
Book Week 27 February - 2 March 2012
Our Reading Olympics race track with reading competitors waiting for the off!
1 March 2012
These photos are of beautiful miniature iris and snowdrop bulbs bravely blooming under our recently planted trees. Bravely because they put up with a lot of feet getting very close to them during playtimes! Thank you to Mr & Mrs White, Mrs Scoones and Mr and Mrs Gibson for their hard work planting them last year - it was worth it!
And here is a photo of our lovely willow tunnel planted by Colin and Ashley from Natural Expressions. Thanks go to Miss Lockerby and Mrs White for their hard work coppicing and collecting the willow stems. We can't wait to see how beautiful it will look once the leaves start to appear and the children are really looking forward to running through it!
14 December 2011 - Nursery Rhyme Nativity performed by Reception, Year 1 and Year 2 to whole school as dress rehearsal for performances to parents over the following two days.
9 December 2011 - Our school choir sang carols and Christmas songs for everyone at BUPA's Willow House today. They were brilliant and a real credit to the school! The audience really appreciated them and there were even a few surreptitious tears wiped away (tears of joy we think!).